Social & Community Health Care Centres
Snehatheeram
Snehatheeram offers institutional and home-based care and support for the poor sick, especially the terminally ill and those in the end-stage of their lives, ensuring their dignity and quality of life.

Snehatheeram is a care and support centre for people living with HIV. It also has a home-based care program through its out-reach program called NANMA. The centre has been involved in this ministry since 2005 and has catered to the needs of thousands of HIV infected and affected, diabetic patients, TB patients, and those suffering from various chronic illnesses. The religious at Snehatheeram are also involved in spiritual ministry through Gospel preaching and involvement in parish ministry. Recently it has also extended its ministry to the care of the mentally afflicted through Sneha counselling centre. A couple of books and numerous articles have also been published from Snehatheeram. .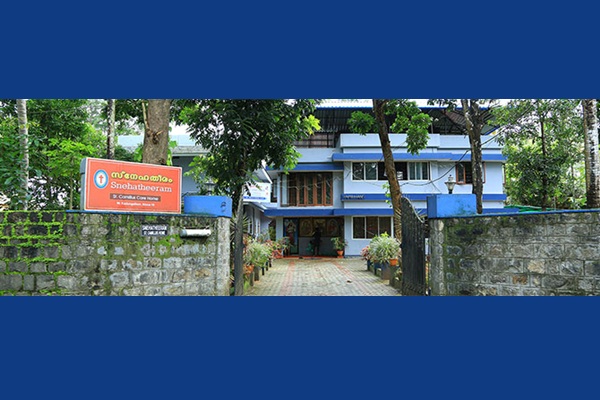 Mission
Addressing the needs of people living with terminal illness, especially those in the end-stage of their lives, ensuring their dignity and overall quality of life.

Snehatheeram strives:
To provide institutional care for poor sick who are abandoned by their families or whose families cannot afford to care for them, such as PLHIV, cancer patients, TB patients, the paralyzed, and other terminally ill patients; To avail timely medical aid to the poor sick for anti-retroviral therapy (ART) through patient liaison service; To create educational opportunities for poor children as well as HIV-infected and affected children;

To educate the society of its responsibility for its suffering members by conducting seminars and other awareness campaigns in schools, colleges, Panchayaths, churches, resident associations, and women's welfare groups, and mobilizing resources through them for the welfare of the sick.

Service Delivery

1. Snehatheeram Snehatheeram mainly focuses on care and support of physically ill. It has currently, 11 in-patients including the HIV-infected, the elderly, the mentally sick, and other infections. Snehatheeram usually accommodates patients who need a short-term support to recover from their diseases or to regain health. Therefore, it does not encourage admitting patients for a very long period. During the period between July 2021 and June 2022, eleven patients got admitted at Snehatheeram, while three persons expired.

a) Medical Care: The medical care team at Snehatheeram strives to provide maximum comfort and care round the clock. Regular check-up by our resident doctor, administration of drugs, standard curative practices and excellent infrastructure enable the patients for a speedy recovery from their illnesses.

b) Psycho-spiritual Support: Snehatheeram has
an ambience promoting the psycho-spiritual development of the patients. Sharing with the Priests/religious of Snehatheeram community, Peer counselling and spiritual activities enable the residents to cope with their disease.

c) Nursing Care: The nurses at Snehatheeram provide quality nursing care to the residents. They also provide nutritional supplement to the patients as required, and maintain patients' records and case sheets. The doctor and nurses also avail their free services to the members of Nethaji Resident Association, of which Snehatheeram is also part, on request.

d) Referrals: Snehatheeram is a referral centre for many NGOs, Government and other health facilities in and around the district. Patients are referred here for medical support, opportunistic infection management, spiritual and psychological support.

e) Care of TB Patients: Various TB units in the district help us to provide quality care to TB patients admitted at Snehatheeram.

f) Ambulance service: Snehatheeram has an ambulance solely for the needs of the poor patients who wouldn't be able to otherwise afford such services. This year it had an average utility of 18 trips a month.