Social & Community Health Care Centres
Snehagram
Snehagram, the adolescent phase of the comprehensive care programme by Sneha Charitable Trust (SCT) for the Children Living with HIV (CLHIV), was established in 2013. This programme is a result of SCT's ardent pursuit for an advanced care programme exclusively for CLHIV. This programme which spans across three phases envisages providing comprehensive care by addressing all the issues and needs of children pertaining to each developmental stage and to help them to have an independent living as they reach adulthood.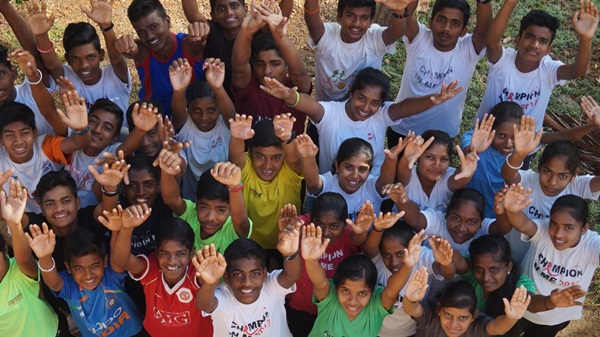 Snehagram, the second phase was established in 2013 to cater to the needs of children who have been under care at Sneha Care Home (SCH) once they reach past the age of 13. Major focus in this phase is to impart vocational skills and to prepare them for independent living. In this phase the children are also provided with opportunity to complete their academic education at least till the higher secondary level along with life-skill education and other health and life enrichment activities. It is a residential programme for boys and girls who are 13 years and above with a focus on vocational training and rehabilitation. It has the facility to offer residential training for 200 children, both boys and girls.

Snehagram facilitates a preparatory platform for the HIV-infected adolescents to face the challenges of life when they reach their adulthood. This unique model is evolved to meet the long-term needs of childhood development, adolescent issues, personality development, value development, employment, community and family acceptance.

Vision and Mission
Snehagram envisions to ensure quality of life and future of the orphan and vulnerable children living with and affected by HIV and a healthy and productive adulthood, by comprehensively addressing their needs on education, health, psycho-social and emotional well-being, and by providing vocational training, life-skill education and value formation so as to enable them to live a healthy and happy life.

Objectives
To create a home away from home for children living with HIV to rebuild their lives To encourage children to attain optimum education for building their future lives To ensure quality of life to the HIV-infected adolescents To help children build self-esteem and confidence through life skill- training, guidance and support. To guide and support the adolescents to grow into responsible and healthy adults

1. Service Delivery

a) Academic program
Snehagram follows a student- centered academic programme. Most of the children lack formal education as they were dropped out of schools for a considerable time. Hence, children are facilitated to follow the curriculum of National Institute of Open schooling (NIOS) and take the examination conducted by NIOS at the secondary and higher secondary levels. Participatory and activity-based pedagogy is being followed. Each class has three or four study groups and their discussions and progress are monitored by the respective teachers. Teacher-mentored sessions are followed by group discussions and individual learning.

The three main components
of the education program are: academics, skill development, and leadership training. Classroom sessions provide academic preparation for secondary and higher secondary education under the National Open School Curriculum.

Second, the curriculum focuses on holistic learning, with job- oriented classes, vocational trainings and life skills, including basics of computer, language and communication, customer care services, driving, farming, craft-making, tailoring, and embroidery. Third and most important, the curriculum promotes leadership and management skills through a 'child parliamentary system' that democratizes learning and mutual respect, ensures meaningful interaction and bonding among adolescents, and promotes teamwork and leadership.

All the classes and session are conducted within the institution and the subjects are taught by mentors and staff in Snehagram. The students are grouped into five: 9th, 10th, 11th, 12th or PUC, and undergraduate. Students' progress is monitored and assessed through comprehensive evaluation conducted every semester.

b) Healthcare management
Snehagram follows a three-fold approach in healthcare: preventive, promotive and curative. Preventive aspect focuses on preventing our children from infections through keeping them mentally and physically fit through sports, running, and exercises which have become a lifestyle itself for them. These along with balanced nutritious diet play a pivotal role in preventive healthcare management.

The promotive care aspect of our healthcare is based on the belief "health is a state of complete mental physical and psychological wellbeing." Children are helped to address the psychosocial issues related to adolescence through individual counseling, group counseling, and peer counseling. There are wellbeing groups of children who meet every week and discuss their issues and provide mutual support in dealing with life challenges and in goal setting.

The curative aspect takes care of treatment and drug adherence. All the children, in compliance with the NACO guidelines, are currently on ART (Anti-retroviral Therapy) and some of them are on second line treatment. Through this system of healthcare management, there are minimal cases of hospitalization and zero viral load. Consequently, there is a decrease in the intake of drugs and medical expenses, and children are confident that they can stay healthy with minimal expense for healthcare.

c) Vocational Training and Community College
Many children are involved in different activities to settle on their future careers. Some of the programmes introduced for skill training are: • Organic Farming
• Dairy Farming
• Chicken Farming (Separate units for broiler and indigenous variety)
• Data Entry (Reporting and Documentation)
• Mango Garden cum plant nursery (To train children in preparing the land, planting, maintenance, pruning etc.)
• Catering
• Sales and marketing

Through these various activities and training, children have developed self-confidence, and having got exposure to different career avenues, many have identified their potential career choices.

d) Co- curricular Activities
Co-curricular activities are devised to help children in value formation and life-skill training, resilience building and coping and preparing them to face challenges in life. Some of the programmes introduced for co- curricular activities are: - Sports and games
- Running
- Dance
- Aerobic Exercises
- Gardening
- Exposure visits
- Creativity Development

Programmes
• Monthly cultural program
• Celebration of the Festivals
Through these activities children have been able to find and develop their hidden talents. They also helped them channelize their energy to productive work, and to develop their skills and imagination.

e) Leadership Development Programmes
Snehagram is making every effort to develop leadership skills in the adolescents. Through these programmes children develop their ability to make decision for them as well as to improve their quality of life. Some of the activities are as follows:

• Training programmes and workshops
• Developing Peer Leaders from among the children to train the children in the communities
• Life-skill training
• Living Value Education Programmes

Children's Parliament
Children's parliament is a system of self-governance by children. INSA India, a partner of Snehagram supported in setting up the children's parliament system in 2013 and has become an inspiration to many more organizations working for children affected by HIV. Under this system, children select their own parliament; Prime Minister and Deputy Prime Minister along with ministers for Law, Education, Health, Environment, Sports and the Leader of the Opposition. Cabinet meetings and parliament meetings are convened regularly and children take active part in managing and guiding the affairs of Snehagram.

f) Snehasparsh out-reach program: Empowering with Care
Snehasparsh is a community out-reach initiative by Snehagram to address various issues faced by children in the community. Through the I'mpossible Fellowship and with support from ThoughtWorks Technologies Pvt. Ltd, the Snehasparsh initiative was able to reach out to more than 700 adolescents and youth, across five districts of the state of Karnataka.

Of the 700, 47% were females. Nearly 85% of the individuals contacted have been adherent to treatment, these were followed up and counselled. The beneficiaries from critical socioeconomic backgrounds were prioritised - among the beneficiaries only 26.5% have both parents alive and 35% live with single parents, 22.5% with grandparents/ extended family members and nearly 16% stay in the hostel/ PGs, hence the critical need to reach out arises. The livelihood linkages had been a challenge, due to COVID impact and moreover, only 15% have completed graduation or diploma courses, further 22%, are pursuing 12th and more than 60% were below 10th. Of the cumulative, 19% have requested support to continue studies, and the project is making the needful efforts. But we were able to partner with 10 organisations, who provided the support and services during the COVID crises as well some were supported to get suitable jobs. The peer leaders have grown up to become the primary link for adolescents and youth. They used both their personal experiences and learnings to build their lives and link the beneficiaries to critical services amidst the COVID crises. Nearly 60% of the beneficiaries were supported with dry ration during the COVID crises through building partnerships with other donors. Life skill and youth camps were supported and facilitated for more than 200 children, youth and adolescents. Nearly 100 community leaders are identified. Through our work with the HIV positive adolescents and youth, we believe the best possible way is to work with the community, facilitate them to prioritize the critical factors that impact the major influencers of life, steadily address them, will help to solve the concerns and issues of the community, hence the project continues to build on the strengths and leadership and focus on reaching out with quality services.

NEW VENTURES

1. ImPossible Fellowship
The I'm possible fellowship was launched by Sneha charitable trust on 26 January 2021. We started the fellowship with 10 fellows and 4 mentors. The fellowship is built on the four Sustainable Development goals they are Health, gender, Livelihood and education. The fellows in I'm possible Fellowship reach out to 250 children infected and affected by HIV/AIDS. The students are monitored and supported to lead a healthy life and guided to complete their Education.

Through this fellowship we are able to bring all the students together and share joy happiness learning and give guidance and teach them life skills and take session on the 4 STGS through camps. The community students feel confident that the fellow is there to listen to their needs and help them in their challenges and guide them to the vision they have. Through the fellowship the fellows have helped the students to focus on their health and supported them in education and livelihood and lead a happy life. Our fellows have been placed in 7 partner's institutions. Our fellows have been getting fully involved in the placement areas and supporting the management. I' M possible fellowship is a great platform to reach to the students in different community and be connected as one community and stand together to support each other.

2. The Positive Running Program
The Positive Running Program is instituted in memory of Rishi Shet, a young teenager who was a champion runner. The Program aims to empower children and youth by using athletics as a catalyst to harness their physical abilities and confidence to pursue an active, healthy and holistic lifestyle. It incorporates routine running activities and strength training, ensures appropriate nutrition for children, and supports acquisiton of appropriate training equipment. Attention to good nutrition is paramount, and support for providing daily eggs, fruits and protein drinks is ensured. Regular fitness camps are conducted, and participation in running events is encouraged and supported. The Program is supported by the Rishi Children's Trust, in collaboration with the team from Johns Hopkins University.

3. Christy Girls, Kolar
It was initiated in March 2022. Physical activity was a new approach, and all 18 HIV- affected girls residing at Christy participated enthusiastically. After the initial assessment, the girls were provided T-shirts, running pants and shoes. Basic strengthening exercises were introduced initially followed by running short distances of 1 km, as the target was to get everyone to experience the benefit of running. Five months after program initiation, the girls are able to run 5 kms without difficulty.

4. Dayabhavan, Tumkur
Dayabhavan has been a committed organization and has been working for more than 15 years in the field of HIV. The 25 resident boys aged 13-18 years at Dayabhavan who elected to participate in the training were excited to get their pair of running shoes and gear. Two leaders were selected, and within a few weeks the zeal for participation was clear. This has been the first time the boys ever ran, and many witnessed the positive impact on their mental health, as well as in their studies.

5. Magic Bus
Sneha charitable Trust and Magic Bus, entered into a partnership, towards sustaining the livelihoods. Established in 1999, Magic Bus India Foundation works with children and young people from underserved communities, taking them from a childhood full of challenges to a life with meaningful livelihoods. They equip young people with the skills and knowledge they need to grow up and move out of poverty. Magic Bus Livelihoods Program connects the aspirations and potential of young people to available market opportunities. They build them employability skills and map job potential based on individual strengths and mobility. In this context, Sneha Charitable Trust has partnered with Magic Bus to address and support the skilling as well as placement issues of children born in HIV infected families. Currently 27 young adolescents are enrolled in the virtual training program for 45 days and following these in-house placement support. Sneha Charitable Trust, has assured a long-term support to the students, in completion of the training program, as well as to ensure sustainability of their lives.

Communication: Snehagram publishes Annual report, active in social media such as Facebook, and YouTube. Snehagram has a bimonthly newsletter called 'Snehavaani' that covers all the events of Snehagram during the period. The major shares of the contents are contributed by the children themselves. It also gives a platform for children to nurture their literary skills.

Awards and Recognitions
• Offically recognized for fitness program by Jolly boy's club, Ranipet, Tamil Nadu
• Magic bus recognized as emerging institution under livelihood programs.