Social & Community Health Care Centres
St. Camillus Ashram
St. Camillus Ashram at Yellampet, Secunderabad is a unit of Sneha Charitable Trust (SCT). The initial plan and vision of St. Camillus Ashram was to have different service endeavours, such as a centre for children with multiple disabilities, a destitute home, and San Camillo occupational rehabilitation centre. Consequently, San Camillo occupational rehabilitation centre was inaugurated in 2016 at Yellampet in a land we had purchased in 2012. Fr. Siby Kaitharan was appointed in- charge of the rehabilitation centre. But unfortunately, it was closed later on. When the proposed home for the disabled children (Daivalayam) was almost ready in January 2017, Bro. Madhu, together with two caretakers and four children, started to live there. By December 2017, Fr. Benny, Bro. Madhu, 8 staff members, and 10 children began to live here permanently. The plan for the destitute home has not yet been realized.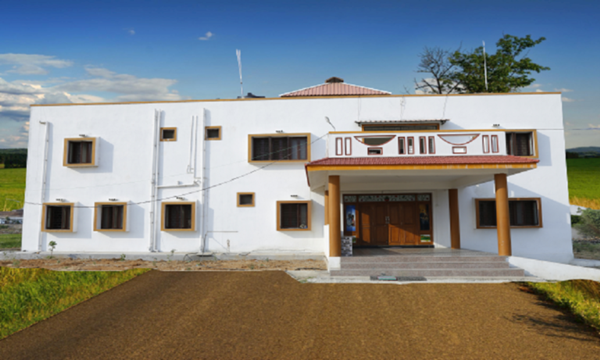 Daivalayam is a home for children with multiple disabilities. It is one of the most challenging, creative and demanding initiatives of Camillians. Daivalayam means "temple of God". This is a place where children with mental and physical disabilities are cared and respected as the image of God. Daivalyam provides quality and compassionate care for children with special needs, ensuring their dignity of life. At present, there are 27 children, and 12 staff members in this centre. Among these, most of them are orphans with many disabilities. All these children have been referred to Daivalayam by Child Welfare Committee of the various districts of Telangana State. While some of the children are given special education by the St. Ann's Sisters, most others are in need of constant personal care and attention.

Vision
Comprehensive healthcare to the sick with a preference for the marginalized, neglected, lonely, and disabled.

Mission
Providing an environment of care and love for the physically and mentally disabled children for enhancing their quality of life.

Services delivery
i) In-house facility for 30 children
There are three wards, in which 10 children each can be accommodated. All these wards are bath-attached and with other necessary facilities. At present 27 children - 26 male and one female - are given in-house care at Daivalayam.

ii) Personal care round the clock
Daivalayam gives 24x7 care and attention to almost all the children, because they are both mentally and physically disabled. Personal care includes feeding, giving them bath, changing their clothes and diapers etc.

iii) Nutritional care
Each child is provided special nutrient food as per his/her nutritional need. Since most of them are not able to eat normal food, they are fed with liquid food. The nurses and caretakers pay special attention to the nutritional needs of each child.

iv) Physiotherapy and exercises
Since most of the children are physically handicapped, they are given regular physical exercises. There is a part-time physiotherapist, and rather well- furnished physiotherapy unit for this purpose.

v) Medical care
The children here are not normally healthy. Therefore, most often they need some medical care too. There take place regular visits of doctors who look into their medical needs. Moreover, children are accompanied to the National Institute for the Mentally Handicapped (NIMH) in Hyderabad once in six months for various tests. A few of them on regular medications for fits. In case of any health emergency, the child is transferred to the nearest hospital, accompanied by a nurse or a caretaker.

vi) Special education to the children
Daivalayam gives special education to those children who are able to study little bit. Eight children go to Manovikas Kendra, a school for special children at Medchal.

vii) Spiritual care
Daily prayers, and occasionally even special prayers are conducted at the centre, though these children do not participate actively in spiritual services and prayers.

viii) Entertainment
Occasionally, children are provided with various entertainment programmes, which make them happy and active. Moreover, the atmosphere of love and care in the centre makes them joyful.

NEW INITIATIVES

1. CP Chairs for All
As most of our children are CP (cerebral Palsy) the CP chair is one of the most needed for their daily activities be it feeding or sitting. This year with the help of kind hearted people we were able to buy CP chairs for all children and this has improved the quality of life for our children.

2. Developing a Fruit Garden
This year we are developing a new fruit garden at St. Camillus Ashram. The different varieties of fruits trees like mango, Sapota, Guava, Jack fruit, Banana, Sugar Apple, Papaya, Butter fruit, Bread fruit, Cashew nut, Gooseberry, litchi, Mangosteen, Dragon fruit.... etc. have be planted with drip irrigation.

3. Hydroponic Farming
We inaugurated hydroponic farming system at the ashram, and through this we could support our centre.

4. New Website for St. Camillus Ashram.
Last year we have inaugurated new website for the St Camillus Ashram, we hope that, by this we can reach out to many people faster. The new website address is www.stcamillusashram.org.

5. Sponsor a Meal Programme
Through this Programme we will be approaching people of all kinds, families, shops, charity organisations, churches, educational institutions requesting them to sponsor a meal for the children at Daivalayam. This way, we aim to make people aware of our children home and at the same time raise funds.

6. Aadarana: Supporting the sick at home
Aadarana means Support, and under this programme we support the sick at home with different services offered to the sick free of cost.

Services provided under Aadarana are:

Ambulance Service: We provide ambulance services to take the patient to the hospital and shifting the patient from hospital.

Oxygen services: Under this service we provide oxygen cylinders and oxygen concentrators for the sick person at home.

Air bed/water bed: We provide the air and water beds to the bedridden patients at home.

Walking or mobility aids: We provide crutches, walkers and wheelchairs for the people for their rehabilitation.

A team of medical and personal care: We do have a medical team to visit the sick at home and provide treatment, and we have personal care team to visit the sick and provide personal care to them at home.